Last Updated: 06/12/20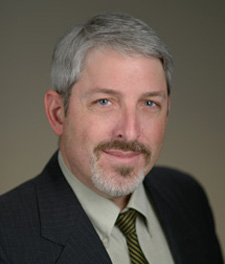 DR. MICHAEL GRAHAM ESPEY
BRANCH CHIEF, RDB
CONTACT INFORMATION
National Cancer Institute
9609 Medical Center Dr., MSC 9727
For USPS: Bethesda, MD 20892-9727
For Express and Courier: Rockville, MD 20850
Phone: 240-276-7619
Fax: 240-276- 5827
Email: SP@nih.gov
Michael Graham Espey, Ph.D., is Chief for the Radiotherapy Development Branch (RDB) in the Radiation Research Program of the National Cancer Institute. The RDB promotes and manages support for a portfolio of research grants and contracts that advance our understanding of fundamental processes in radiation biology and its application to develop and improve cancer therapies. Dr. Espey's programmatic experience includes the development, evaluation, and management of multi-disciplinary research programs and consortia with national impact in cancer biology, cancer modeling, metabolism, stem cells, advanced imaging, physical sciences, and redox mechanisms. He works in service of the radiotherapy and cancer research community to assess priorities for the field and facilitate interdisciplinary cooperation and collaboration.
Dr. Espey is board certified in Clinical Pathology with prior Medical Technologist experience in Immunology, Organ Transplant, Hematology, Microbiology-Virology, and Transfusion Medicine at the University of Iowa Hospital, Georgetown University Hospital, and the NIH Clinical Center. He received his PhD with distinction from Georgetown University in Biology and Physiology for work on intermediate metabolism in the immune system of the central nervous and lymphoid systems.
As an NIH staff scientist in both NCI and NIDDK, Dr. Espey conducted basic, pre-clinical, and translational research in biochemistry, neuropharmacology, innate immunology, infectious disease, physiology, cell biology, and radiation biology. He has specialized expertise in redox chemistry in relation to cancer biology and therapeutic interventions with strong interests in imaging and biophysical approaches. He was the NIH FAES Professor for Molecular and Cellular Biology. Dr. Espey has authored over 150 scientific research articles, reviews, and book chapters with approx. 14,000 citations and is active in peer review across diverse fields of study.
Molecular Radiation Therapeutics Branch