Centinela Freeman Regional Medical Center Memorial Campus
Inglewood, CA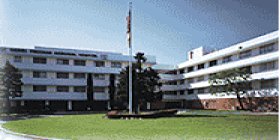 Memorial Campus
333 North Prairie Avenue
Inglewood, CA 90301
http://www.centinelafreeman.com/Memorial/default

PI: Michael L. Steinberg, MD
Centinela Freeman Regional Medical Center Memorial Campus is owned and operated by Memorial Campus local hospital administrtors, physicians and community leaders. Memorial Campus is a 358-bed acute care community hospital offering a wide array of greatly needed medical and surgical services, including cancer treatment, obstetrics, neonatal intensive care, pediatrics, neurology, neurosurgery, acute rehabilitation and emergency room services. Memorial Campus continues the hospital's almost 50-year mission of service to the Inglewood community since it acquired the facility in 2001. Memorial Campus is grounded in the tradition and history of the sisters of St. Joseph of Carondelet, who founded the hospital and remain on the hospital campus in service to the hospital and community.
Memorial Campus is a general acute hospital licensed by the California Department of Health Services. The hospital is fully accredited by the Joint Commission on the Accreditation of Health Care Organizations and fully certified by the Center for Medicare and Medicaid services to participate in the Medicare and Medicaid programs.
Memorial Campus services are provided without regard to religious beliefs, national origin, or any factor unrelated to care. Memorial Campus is a disproportionate share hospital in recognition of the considerable service provided to high need/low resource persons. In 2002, more than 23 percent of inpatient and outpatient services were to poor and vulnerable populations. Most of Memorial Campus primary service area is low or moderate income: in 2002, 47 percent of households had annual incomes of $30,000. The area includes the cities of Inglewood, El Segundo, Hawthorne, Lawndale, Lennox, as well as adjacent neighborhoods in south central Los Angeles to the east. The vast majority of area residents (92%) self-describe themselves as Latino and African American. About three in ten residents are immigrants or first generation Americans. English is also a second language in nearly one in three households. (Source: Memorial Campus Community Health Needs Assessment, August, 1998.)
The Cancer Center at Centinela Freeman, Memorial Campus offers an array of inpatient, outpatient and supportive services. From diagnosis to treatment, Memorial Campus has the capabilities to handle a broad range of cancer diagnosis.
Starting with imaging technologies, Memorial Campus is taking delivery on a state of the art PET scanner. It was operational in May 2003. This modality will greatly assist in diagnosis and monitoring the progress of treatment regimes. The hospital is also in the process of taking delivery of a second 16-channel multi-slice CT scanner. This machine, in tandem with the hospital's MRI, allows for sophisticated imaging necessary for stereotactic neurosurgical and radiosurgical procedures.
Treatment modalities include, surgical intervention, inpatient and outpatient infusion therapy and a full array of radiation therapy modalities including permanent seed implants and high dose rate brachytherapy.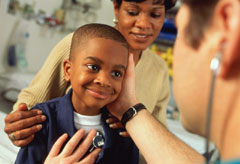 Patient Population
Centinela Freeman Reginal Medical Center, Memorial Campus is the primary provider of radiation oncology services to the community/service area and although within an urban environment, the next closest hospital with radiation oncology services to the community is 8 miles to the north, 7 miles to the south and 15 miles to the east: none lie to the west. In 2002, about 45 percent of Memorial Campus's radiation oncology services were provided to African Americans and 45 percent were to Latinos. African Americans make up 6.7 percent and Latinos 32 percent of California's population respectively.
Cancer Disparities Research Partnership Program Project Summary
Project Title: Urban Latino African American Cancer Disparities Project
The Urban Latino-African American Cancer Disparity Project (ULAAC Disparities Project) links Centinela Freeman Regional Medical Center, a community hospital in service of a high need/low resource urban community (45% Latino, 45% African American) with major research institutions: University of Southern California, University of California San Francisco, and RAND to create a permanent clinical trials infrastructure. This collaboration generates unprecedented opportunity to reduce disparities in access to radiation oncology, cancer prevention and translational research trials as well as demonstrate an intervention model with potential application to similar urban communities throughout the nation. The Project builds and stabilizes independent and collaborative clinical research capabilities of Centinela Freeman with its partners and improves ability to extend access to radiation oncology clinical research to African Americans and Latino persons with cancer and at high risk for cancer. The Project uses a cultural and language appropriate health Educator to outreach to potential patients for Project-sponsored clinical and prevention trials, explain the benefits of trials participation, and identify and recruit trials participants. The Health Educator identifies potential Project patients through the 383 primary care physicians in the Project's target service community. Outreach through primary care physicians builds on established patient and physician relationships that can, with Project interventions, overcome patient reticence and other barriers to clinical trials. The assignment of patients to Patient Navigators facilitates the care process by improving coordination of care functions, which will in turn improve the quality of the medical interaction and increase enrollment and retention of patients in clinical trials. The Project demonstrates the use of a Health Educator and Patient Navigator facilitated interventions to recruit and encourage African American and Latino persons with breast or prostate cancer or at high risk for these conditions to participate in and successfully complete radiation oncology clinical trials, a partial breast irradiation trial, cancer prevention trials and certain translational research investigations. A crucial Project component is systematic evaluation. The evaluation assesses the needs and concerns of stakeholders and provides ongoing feedback and suggests alternative approaches.
Centinela Freeman Regional Medical Center

Patient Navigators will provide individual assistance to reduce disparities caused by factors such as adult illiteracy, inadequate English language skills, immigration and other legal issues, misinformation about cancer, fatalism, fear of being a "guinea pig," fear of exploitation and fear of harm from "experiments," and lack of case-managed guidance and follow-up assistance to assure continuity of care. The Project demonstrates use of Patient Navigator-facilitated interventions to recruit and encourage African American and Latino persons with breast or prostate cancer or at high risk for these conditions to participate and successfully complete radiation oncology clinical trials. Once referred to the Memorial Campus Cancer Center, every patient will receive individual assistance from a specially trained culturally and linguistically appropriate Patient Navigator. The Patient Navigator's role is both global and personal to ensure that the patient's medical and social needs are addressed. Patient Navigators will help patients to overcome barriers to access including but not limited to: 1) lack of transportation, 2) confusing clinical trial eligibility criteria, 3) service discontinuities that can occur with unaided referral to specialists, 4) coping with the psychological shock of cancer while also having to make decisions with quality of life consequences, 5) scheduling and keeping multiple appointments, and 6) complying with protocols that can require repeated treatment visits. These impediments can be especially daunting for socially isolated persons who also lack someone who can advocate for them when they are unable to do so themselves.
Centinela Freeman Reginal Medical Center will mobilize and train a group of Patient Navigators, whose purpose is to assist program patients in overcoming any and all barriers to streamlined, expeditious medical care and, where applicable, barriers to entrance into current clinical trials. Patient Navigators will be individually matched with patients based on cultural, interpersonal, professional and peer characteristics with the object of maximizing the patient's comfort and trust in the navigator and the care process.
Simultaneous with the mobilization of the navigator team, the Project's Health Educator will outreach to community groups, physicians and patients to educate them about breast and prostate cancer and/or to inform them of the availability and purpose of the navigator program. The Health Educator will also provide information about both the need and opportunity for inclusion of Latino and African American patients into pertinent clinical trials.
Contact Information
Community Health Educator
Deborah Karaman, MPH
Phone: (310) 674-7050 ext.3489
Email: debbie.karaman@centinelafreeman.com