Laredo Medical Center
Laredo, Texas
CDRP grant was relinguished on April 27, 2007.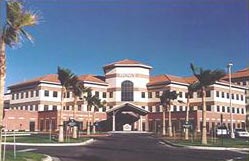 Laredo Medical Center
Sanchez Cancer Center
1700 E. Saunders Street
P.O. Box 2068
Laredo, TX 78044-2068
http://www.chs.net
Principal Investigator: Dr. Yadvindera Bains
Laredo Medical Center, formerly known as Mercy Health Center, was a non-profit institution established by the Sisters of Mercy, a group of Catholic nuns. Mercy Health Center was sold to Community Health Systems (CHS) in 2003. CHS is based in Brentwood, Tennessee and is the leading operator of general acute care hospitals in non-urban markets throughout the United States. CHS owns 72 hospitals located in 22 states across the country. The present facility was completed in September 1999. It is a JCAHO (The Joint Commission on Accreditation of Health Care Organizations) accredited 325-bed acute care facility serving the community of Laredo, Texas.
A.R. Sanchez Sr. & Iris Sanchez Stewart Cancer Center
Laredo Medical Center's A.R. Sanchez & Iris Stewart Cancer Center is a state of the art facility that opened in November 1999. The cancer center includes facilities for medical and radiation oncology. The radiation therapy department has a 21EX linear accelerator equipped with a MLC and an AcQsim simulator. Brachytherapy services are also provided at the center.
Patient Population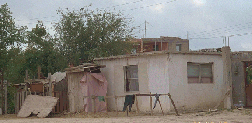 Laredo Medical Center serves a community that is 95% Hispanic with more than 35% of its residents living in poverty. Laredo has one of the highest poverty rates in the nation with one in every three families living at or below the poverty level. Laredo Medical Center also serves 40 - 60 colonias (unincorporated areas with substantial substandard housing). The conditions in the colonias are comparable to poverty found in many third world countries. Most of the colonias are without running water, electricity and telephone service.
Cancer Disparities Research Partnership Program Project Summary
Project Title: Evaluating Cancer Disparities Among Hispanic Communities.
Healthcare institutions providing cancer services to a disproportionate number of medically underserved, low income and/or minority populations, whether urban or rural, are often not linked effectively to national cancer research protocols. This application seeks funding to support the planning, development and implementation of radiation oncology clinical research trials in the predominately Hispanic population of Laredo, Texas. Despite recent advances in cancer care and therapies there is a disproportionate burden borne by this minority population in South Texas. Laredo has a population of 176,576. Ninety-five percent of those residents are Hispanic. It is geographically isolated with no other U.S. cities within a 140-mile radius. The Sanchez Cancer Center, housed at Laredo Medical Center, is a state of the art cancer center with both medical and radiation oncology facilities. Since its doors opened in November 1999, 475 patients have been treated with radiation therapy. Ninety-four percent of these patients were Hispanic. The potential partner institutions selected for collaboration with the applicant institution, are University of Texas Health Science Center in San Antonio (UTHSCSA) and its Cancer Therapy and Research Center (CTRC) and M.D. Anderson Cancer Center (MDACC) in Houston, Texas. MHC has a long history of collaboration and partnership with the CTRC, a NCI designated comprehensive Cancer Center comprised of the University of Texas Health Science Center in San Antonio and the San Antonio Cancer Institute in San Antonio, Texas. MDACC is also a NCI recognized Comprehensive Cancer Center. The strength of this proposal is that it unites the oncology research experience of the partner institutions with access provided to the Hispanic cancer patient population through MHC. The Sanchez Cancer Center is well equipped and staffed to carryout any collaborative clinical trials generated through this grant. Tele-conference will be used extensively to facilitate collaboration. This study will meet the requirements for planning, development, and implementation of clinical trials in an area with vast need for this type of research. This proposal will yield invaluable data and information on cancer outcomes and treatment strategies to improve cancer morbidity and mortality outcomes in Hispanic populations.
Laredo Medical Center's Patient Navigator Program

Programmatic Goals :
Diminish cancer morbidity and mortality in our Hispanic population by providing services at all lengths along the cancer continuum. The program will assist patients in coping with all aspects of a cancer diagnosis.
Patient Navigator Responsibilities:
Augment local, regional and national support networks;
Help patients navigate through the health care maze after cancer diagnosis;
Promotion of clinical trials and assisting with their implementation;
Organization of a comprehensive cancer screening program; and
Community education through the "Promotoras" program.
See also: Rapid City Regional Hospital, Rapid City, South Dakota
Details of Laredo Medical Center's Patient Navigator Program were taken from the Patient Navigator Plan entitled the "NCI Patient Navigator Program" submitted to the Radiation Research Program by Dr. Yadvindera Bains. (January 30, 2003)