New Hanover Regional Medical Center
Wilmington, NC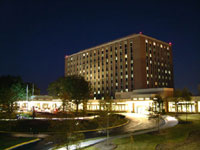 Hanover Regional Medical Center
Zimmer Cancer Center
2131 South 17th Street
Wilmington, NC 28401
http://www.nhrmc.org

PI: Patrick D. Maguire, MD
The New Hanover Regional Medical Center (NHRMC) is the largest provider of health care services in Southeastern North Carolina. NHRMC is the network's 769-bed tertiary, teaching facility. Affiliated with the School of Medicine at the University of North Carolina at Chapel Hill and the South East Area Health Education Center, it offers residency programs in surgery, obstetrics and gynecology, family practice, and internal medicine. Its 4,400 employees, 490 physicians and 900 volunteers serve one of the nation's fastest growing communities and retirement-age populations. The network's service area includes New Hanover, Pender, Brunswick, Columbus, Bladen, Duplin, Onslow, Robeson, and Sampson counties in North Carolina. The county-owned public hospital network receives no local county tax support and will provide more than $65 million in Fiscal Year 2003 in indigent and uncompensated care. NHRMC is accredited by the Joint Commission on the Accreditation of Health Care Organizations.
The Zimmer Cancer Center, on NHRMC's main campus, is Southeastern North Carolina's only community cancer center dedicated solely to the diagnosis, treatment, and support of people with cancer. The Zimmer Cancer Center provides access to board-certified medical, surgical, radiation, and gynecological oncology physicians and consolidated services such as infusion therapy, chemotherapy, radiation oncology, and support services. Support services include nutrition counseling, pharmacy, social work, healing arts, and community outreach. Holistic health care delivery is provided throughout the continuum of cancer care. The Commission on Cancer of the American College of Surgeons has approved the oncology program at NHRMC as a Teaching Hospital Cancer Program. The Cancer Research Program offers patients in the region access to clinical trials and new therapies for treatment and prevention of cancer. A Cancer Registry Program collects data to assess outcomes of treatment and facilities multiple site specific Tumor Board activities. Cancer patients who need to be hospitalized are treated in the 22-bed, inpatient oncology unit on the 10th floor of NHRMC's main campus building.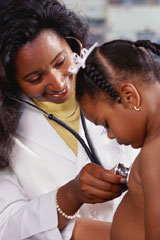 Patient Population: New Hanover Regional Medical Center serves a population that is heavily concentrated with African-American and poor persons. According to the 2000 Census, 12.3% of the United States population is African-American; in North Carolina, 21.6% of the population is African-American; in the nine counties served b the NHRMC, 22.5% of the population is African-American, and the percentage ranges from 14.4% in Brunswick county to 37.9% in Bladen county. Moreover, the median per capita income for all persons in the United States is $21,587, and in North Carolina, it is $13,548, and for black Americans in the counties of interest, the median income ranges from $9,624 to $14,083.
Finally, for the United States as a whole, 12.3% of the people of all ages live in poverty; the corresponding figure for North Carolina is 12.2% and, for Southeastern North Carolina is 15.8%. For the country, 23.5% of African-Americans live in poverty compared with 21.8% in North Carolina and 27.4% in the counties of interest.
Grant Contact Information:
Cancer Disparities Research Partnership Program Project Summary
Project Title: Improving Cancer Outcomes for Underserved Populations in Southeastern North Carolina.
Southeastern North Carolina is a rural area with concentrations of poverty and a large proportion of African-American residents. Within the nine-county service area of the New Hanover Health Network are almost 170,000 African-American residents. African-Americans in North Carolina have higher mortality rates, compared with whites, for cancers of the: Uterus, cervix, lung and bronchus, prostate, larynx, oral cavity and pharynx, breast, colon and rectum, and soft tissue. Participation by African-American cancer patients in federally sponsored radiation oncology group clinical trials has the potential to articulate more clearly the factors that contribute to these disparities.
The primary objective of the project is to increase accrual of African American and other underserved patient populations in Southeastern North Carolina (SENC) onto NCI-sponsored clinical trials. The ultimate goal at the completion of the five-year grant funding period will be for NHRMC to apply to become a minority-based Community Clinical Oncology Program (MB-CCOP) or standard CCOP by achieving the required annual patient accrual rates for these programs. Based upon the current patient population, NHRMC would not be able to eligible to apply for MB-CCOP status. African Americans comprise approximately 25% of the total patient population in SENC as well as at ZCC specifically, far short of the 40% minority population required to be eligible for MB-CCOP application. However, inclusion of Hispanic and poor White patients result in a total of approximately 38-40% underserved population. In either case, whether MB-CCOP or standard CCOP status is sought, the addition of cancer prevention and symptom management studies as well as three planned investigator-initiated studies described herein will greatly enhance the likelihood that this goal is achieved.
Secondary program objectives will be to: 1) Sustain and grow a robust clinical trials infrastructure; 2) Increase the number of oncologists both in the community and in the academic partner institutions that are actively involved in clinical research that specifically addresses underserved populations; 3) Continue to break down barriers to cancer care for the underserved via an increasingly independent patient navigation program.
This project will allow NHRMC and the partner institutions to increase access and accrual to clinical trials thus reducing disparities in cancer outcomes among the underserved and minorities.
New Hanover Regional Medical Center's Patient Navigator Program
The Patient Navigator will assist in mitigating some of the economic and social barriers to cancer treatment, particularly radiation oncology group trials, for African American patients. The Patient Navigator will assist patients in applying for federal, state, and private assistance for treatment costs, in reducing access problems such as transportation, and in enhancing familial and social support systems for cancer patients. In addition, the Patient Navigator will work as a health educator for cancer patients. The Patient Navigator will assist cancer patients from underserved populations in navigating the cancer care system of New Hanover Regional Medical Center and affiliated medical offices, thereby helping patients to close the gap between detection and appropriate treatment delivery. The Patient Navigator will assist cancer patients in receiving timely diagnosis, timely treatment, information and education relating to cancer treatment and clinical trials.
The Patient Navigator will have the following duties:
To initiate communication with newly identified cancer patients, particularly minority patients;
To inform patients of services and resources;
To increase health awareness among cancer patients and their families;
To assist patients in securing financial resources for treatment (medical insurance, government medical assistance);
To provide psycho-social support to patients, individually and in groups;
To coordinate patient services;
To build relationships with other Patient Navigators; and
To track interventions and outcomes.