Singing River Hospital System
The Regional Cancer Center
Pascagoula, MS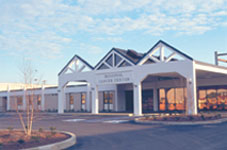 Singing River Hospital System
The Regional Cancer Center
2809 Denny Avenue
Pascagoula, MS 39581
http://www.srhshealth.com
PI: W. Sam Dennis, Ph.D, MD
The Singing River Hospital System (SRHS) began in 1931 as Jackson County Hospital. The facility was the first community owned and operated hospital in Mississippi, and had 23 beds. Several additions to the hospital took place until, in 1958, a new 122-bed hospital was built and opened, and renamed Singing River Hospital. In 1968, the hospital system concept was created to include Ocean Springs Hospital in Ocean Springs Mississippi. SRHS has evolved steadily and significantly over the years. Singing River Hospital now has 415 beds and Ocean Springs hospital has 126 beds. The total of 541 beds makes SRHS one of the largest hospital systems in the state and Gulf Coast region. The Regional Cancer Center (RCC) opened in 1994 on the Singing River Hospital campus, brining cancer care to the area for the first time. The hospital system also has a Level II Trauma Center, a strong cardiac program, including open-heart surgery, a hospice, two ambulatory surgery centers, and many other ancillary health care service available. The Regional Cancer Center is accredited by the Joint Commission on the Accreditation of Health Care Organizations, American College of Radiology, College of American Pathologists, American College of Surgeons, American Association of Blood Banks, FDA Inspections, MS State Department of Health, and The Intersocietal Commission for the Accreditation of Vascular Laboratories
The Regional Cancer Center
The Regional Cancer Center housed at Singing River Hospital in Pascagoula, Mississippi is a new center established in 1994. It is the only ACOS-certified comprehensive community cancer center with radiation and medical oncology services in one facility on the Mississippi Gulf Coast. In addition to the main facility, patients can also receive outpatient chemotherapy at Ocean Springs Hospital, in Ocean Springs, Mississippi. The specific services and programs offered at the RCC include radiation oncology, medical oncology, physician services, surgical services, tumor registry, cancer committee, weekly tumor board conferences and clinical trials. The goal of the RCC is to provide comprehensive and compassionate care close to home so that oncology patients are allowed to maintain an optimal level of independence throughout their course of treatment. The RCC strives to make convenience, timeliness, and information access some of its most important priorities.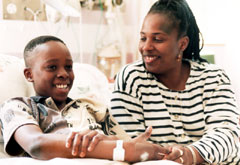 Patient Population
The RCC is the primary provider of radiation oncology care on the Gulf Coast. Sixty-four percent of the patient population is Caucasian, 30.2% African American, 2.4% Hispanic and 1.8% Vietnamese. The Center provides service to African Americans, low-income and underserved persons residing in both the rural and urban area of four of Mississippi's largest counties. These counties include George, Hancock, Harrison, and Jackson. While these counties are not the poorest counties in Mississippi, much of the African American population is underserved. The poorest population is located in the northwest part of the state known as the "Black Belt."
Primary Partner Institution
University of Alabama at Birmingham Comprehensive Cancer Center
http://www.ccc.uab.edu
Co-Investigator(s)

Sharon Spencer, MD
sspencer@uabmc.edu

Ruby Meredith, MD
Cancer Disparities Research Partnership Program Project Summary
Project Title:
The Mississippi / Alabama Radiation Oncology Research Partnership.
The Mississippi / Alabama Radiation Oncology Research Partnership is formed to establish and sustain a radiation oncology research program that will address cancer disparities among African Americans and underserved populations in the Mississippi region. The potential partners include the Regional Cancer Center at Singing River Hospital System (SRHS) in Pascagoula, Mississippi, the University of Alabama Comprehensive Cancer Center in Birmingham, Alabama, and the Gulf Coast Minority-Based Cooperative Clinical Oncology Program. The overall goal of the proposed partnership is to improve access and accrual of cancer clinical trials for African American and historically underserved populations. Clinical trials are the principal tools for achieving and demonstrating progress in cancer treatment and prevention. Unfortunately, the level of accrual of African Americans and underserved populations in clinical trials is disproportionate to the disease burden. In addition, many health care institutions that provide care to a disproportionate number of these populations are not often linked to the national cancer research protocols. As a result, radiation oncologists in these institutions have a difficult time starting, developing, and sustaining research programs. Thus, this proposed partnership seeks funding to support the planning, development, and implementation of radiation oncology clinical trials program. The proposed research plan will enable investigators to examine whether increasing access to cancer clinical research trials will increase accrual and participation. The partnership collaboration will serve as the major vehicle for building a research infrastructure and generating new findings in radiation oncology that may impact cancer disparities in African American and underserved populations.
The Regional Cancer Center's Patient Navigator Program

The goal of the Patient Navigator program is to assist clients in developing their connection to the Singing River Hospital health care system and, thereby, increase participation in cancer screenings, clinical trials and successful treatment. The Patient Navigator program will be coordinated by a Community Health Advocate/Patient Navigator Coordinator who will oversee three Patient Navigators and will be responsible for setting up screenings, outreach and coordinating transportation with the hospital system and cancer patients.
Patient Navigators will play a key role in recruiting the underserved community members to participate in screening programs. After a diagnosis of cancer is made, the Patient Navigator will serve as a guide to navigate the health care gauntlet. The Patient Navigators will be long standing community members. In addition, the Patient Navigators will be used to distribute screening information in the African American community through churches, beauty salons, barbers shops and community publications. Information for the rural communities will be distributed through emergency clinics and local farm news radio stations as well as local churches.
The Patient Navigator will have the following duties:
Participate in cancer screenings in an advisory role helping with forms and general instructions;
Provide guidance to patients if cancer is discovered;
Facilitate communication with the medical staff;
Assist patients with appointments, transportation arrangements and general moral support; and
Act as a liaison in education outreach programs, particularly related to understanding clinical trials.