TELESYNERGY® v1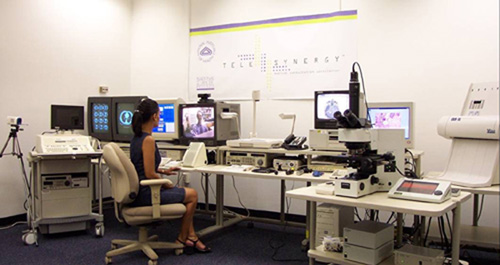 The National Cancer Institute (NCI) believes that the all-encompassing model of vertical integration in the provision of health care and in research efforts must give way to a more flexible, dynamic model of providing high quality health care and conducting research that is more appropriate to the complexities of today's clinical and research challenges. Toward that goal, the NCI has begun a virtual integration initiative, forming strategic collaborations and providing health care consultation, education, and the conduct of off-site research through "Partnerships in Science" agreements.
As of many of its goals, the NCI goal of seamless integration of cancer care and research throughout the country and internationally requires a main enabler and accelerator telecommunications. Telecommunications removes time and location as constraints on organization structure, coordination, and service. It ends the old organizational dichotomy between centralization and decentralization and is often the fastest source of opportunity and innovation. The telecommunications enabler and accelerator for implementing the NCI goal is the TELESYNERGY® Medical Consultation WorkStation.
Developed at the Center for Information Technology, TELESYNERGY® is a multimedia, medical imaging workstation to be used within an electronic imaging environment, utilizing a prototype Asynchronous Transfer Mode (ATM) telemedicine network. It is designed to provide for the simultaneous high-resolution display of medical images from numerous modalities.
TELESYNERGY® also includes a mechanism to allow remote consultations and education between geographically distributed medical specialists of all types. Paired as a platform for NCI's e-Trials Clinical Trials Information System, Phase I and Phase II research trials can be conducted "beyond the campus" of the NCI with patient protocol data being directly entered into the NCI's research database.
The initial application area for TELESYNERGY® was in support of treatment planning in a radiation oncology environment. For example, an oncologist from the NCI Radiation Oncology Branch (ROB) and a colleague at a Partnerships in Science institution may consult during the identification and delineation of a lesion prior to the development of a radiotherapy treatment plan, during the evaluation of a radiotherapy treatment plan, or to discuss the patient's progress during the course of the treatment protocol.
As development of the TELESYNERGY® system continues, other areas of application for which TELESYNERGY is well suited include general cardiology, all ultrasound, nuclear medicine, otolaryngology, ophthalmology, dermatology, mammography, and histopathology. Audio and video data streams are transported continuously through a 155 Mbits/sec ATM link connecting the NCI and off-campus Partnership sites. Microphones and speakers allow bi-directional voice communication, and video capability is provided with S-Video cameras and monitors. If ATM capability is not available at a Partnership site, a high-speed 1.5 Mbits/sec ISDN telephone circuit can be utilized for connectivity with only a slight degradation in audio and video quality.
Two high-resolution monochrome image display systems each function as an Electronic View Box (EVB) for the display of 14 X 17 inch format "electronic films." Utilizing the EVBs, organ and lesion contouring, for example, is performed via a shared-cursor technique in consultation mode, which allows the oncologists to collaborate in identifying features by outlining. These identified regions-of-interest are transmitted simultaneously and in real-time between all TELESYNERGY® sites participating in the telemedicine consultation session.
A remote-controlled microscope capability allows biopsy specimens to be discussed and manipulated by a number of sites concurrently. In addition, a patient exam camera allows high resolution viewing of dermatologic lesions, skin coloration, and other physical signs during a patient examination.