Last Updated: 01/24/17
Organizational Structure
The Radiation Research Program is divided into three branches:
Radiotherapy Development Branch (RDB)
Clinical Radiation Oncology Branch (CROB)
Molecular Radiation Therapeutics Branch (MRTB).
The primary responsibility of the RRP is to the grantees and contractors of NCI and NIH. In 2013, RRP administered 152 awarded grants, most through the Radiotherapy Development Branch.
In addition to conducting grants management and related duties, RRP program staff members advise, and act as reviewers for grants and contracts submitted by the Department of Defense (DoD) and consult on radiation issues with program staff in NIAID, the Biomedical Advanced Research and Development Authority (BARDA), the National Aeronautics and Space Administration (NASA) and the Department of Energy.
The CROB manages a grant portfolio dealing with clinical and translational research in radiation oncology as well as the technical and physical aspects of radiation research and development. In addition to managing the RRP grant portfolio, a substantial effort is devoted to supporting NCI, NIH, DHHS and government-wide activities such as technology development and assessment and comparative effectiveness research.
The MRTB serves as a focal point for collaborations with the Developmental Therapeutics Program (DTP) and Cancer Therapy Evaluation Program (CTEP) in DCTD, investigators in the Radiation Biology and Radiation Oncology Branches in the Center for Cancer Research (CCR), translational research in NRG Oncology and university and industry collaborators specifically addressing research and development needs in combined modality therapy using radiation.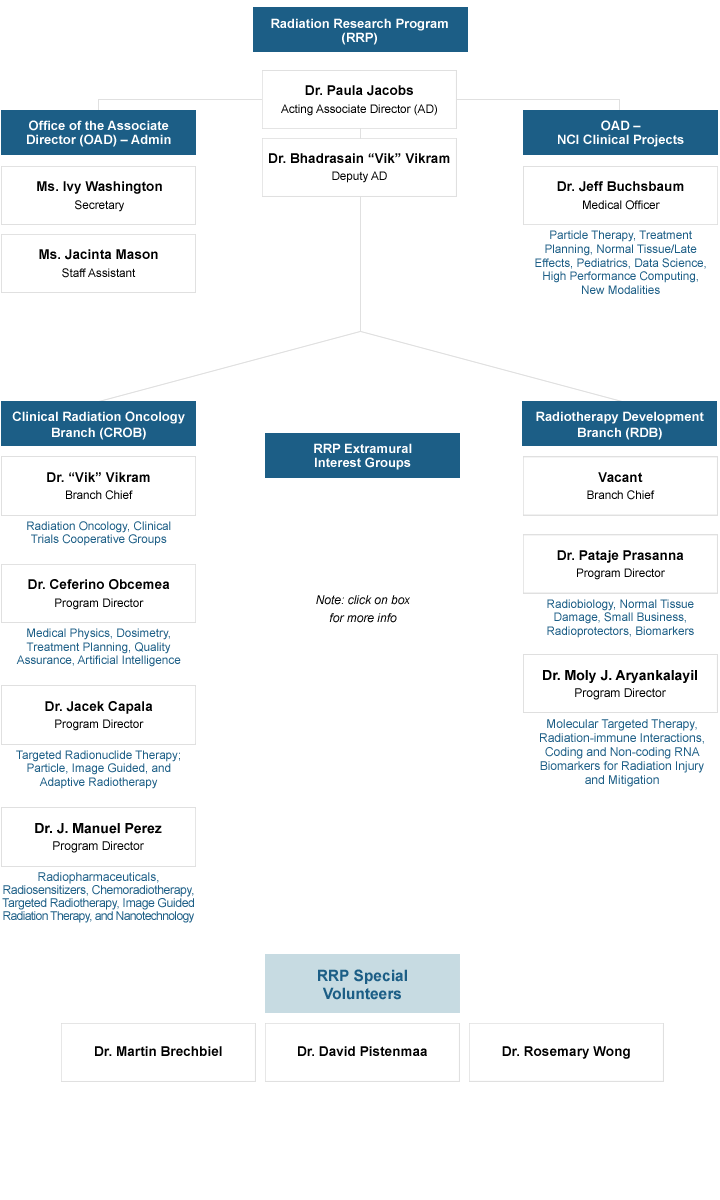 Molecular Radiation Therapeutics Branch